The PentaLock Platform
Easy to integrate as an OEM or bike manufacturer, elevating your brand with an all-in-one bike upgrade component, which makes your bikes smarter and better in terms of security, convenience and overall riding experience.
Offering a platform where you can choose what features you want combined with several accessories and service options.
Good things do come in small packages! this one with no hidden subscription fees, giving continuous updates with innovation and new exciting features for free.
↓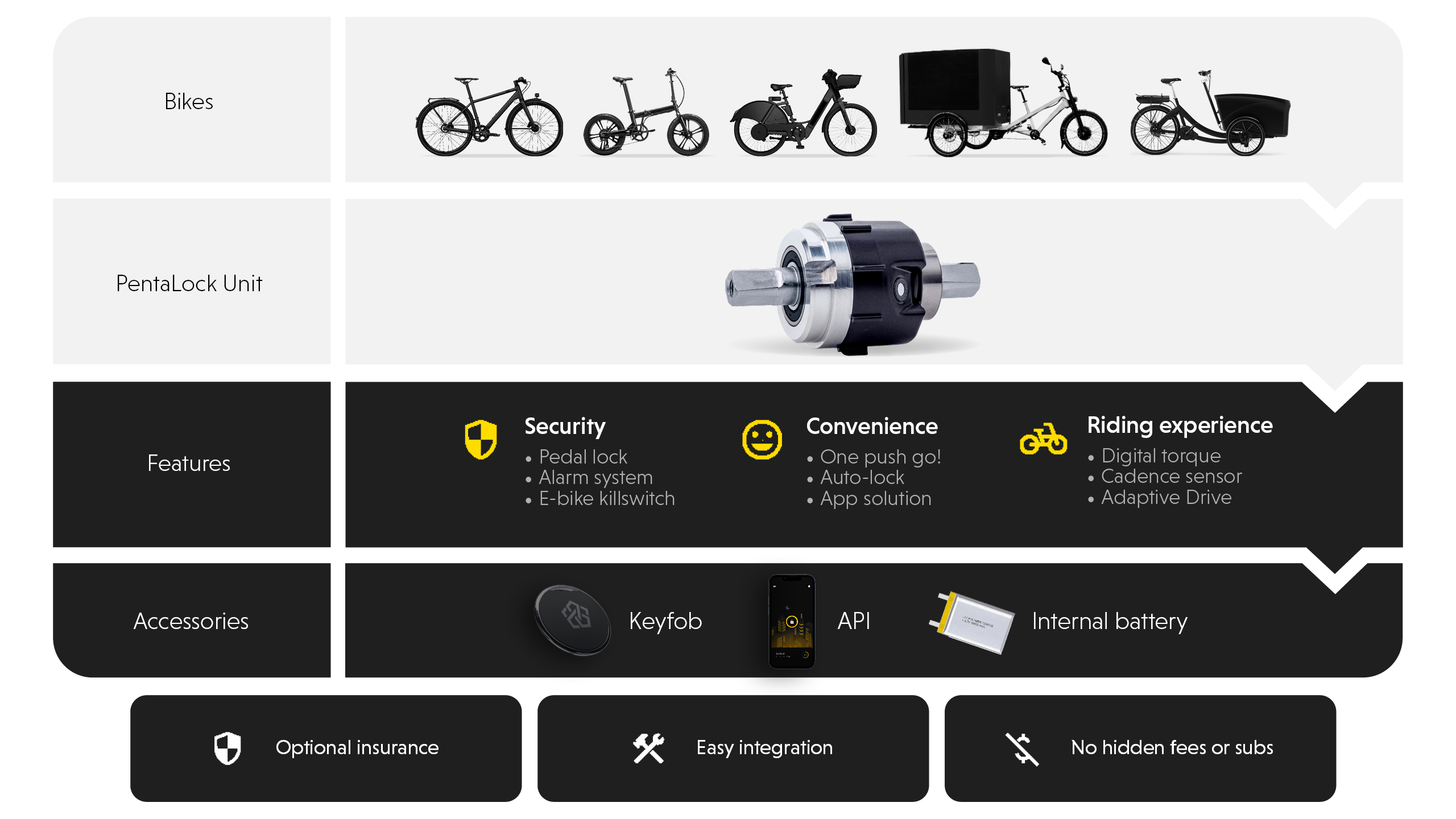 Security & anti-theft
Our core focus is security and aim to end bike theft with our immobilizer approach. The lock has been designed as a vital part of the bike so it cannot be cut without leaving the bike useless.
Lock & immobilizer
Secure your bike with a pedal lock that can resist up to 200kg of continuous applied force.
Alarm System
If theft is detected, a 100dB alarm activates to deter the thief until he leaves your bike alone.
E-bike Killswitch
When you lock your bike, the rest of the e-bike's system turns off, making it impossible to turn on motor, display or lights.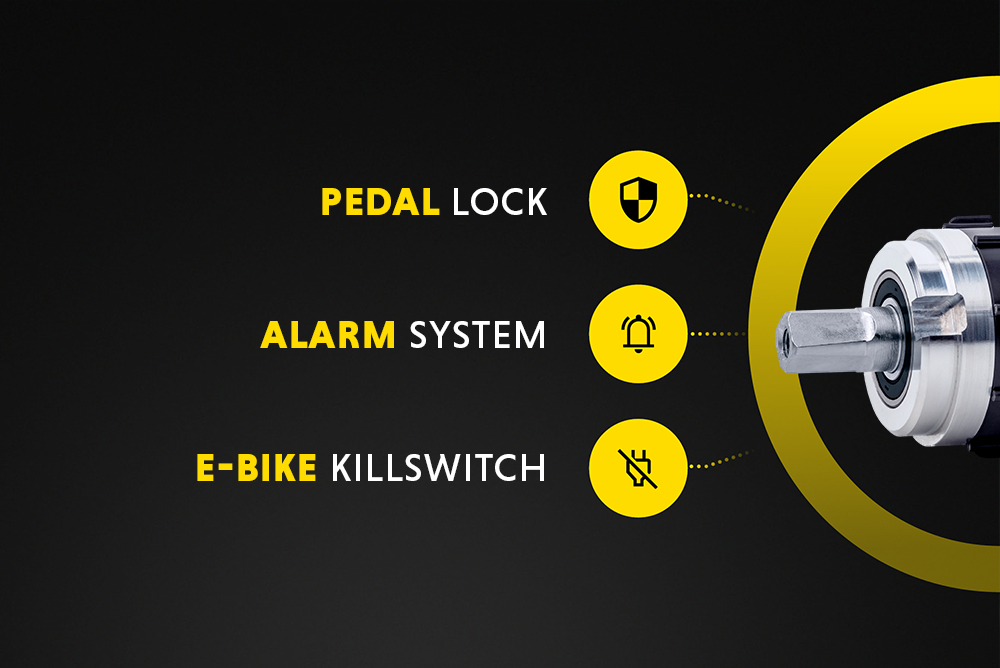 Riding experience
A market first approach to improving riding experience with a predictive and adaptive software platform, which combined with our high-grade cadence sensor and/or digital torque sensor makes the bike ride like no other.
Adaptive Drive
The huge variety of sensors in our unit, combined with input from the bike while riding and an own developed AI-algorithm gives the best riding experience possible.
Integrated PAS
Choose between our digital torque sensor or a precise 32 pulses per rotation cadence, to give the bike just the feel you want.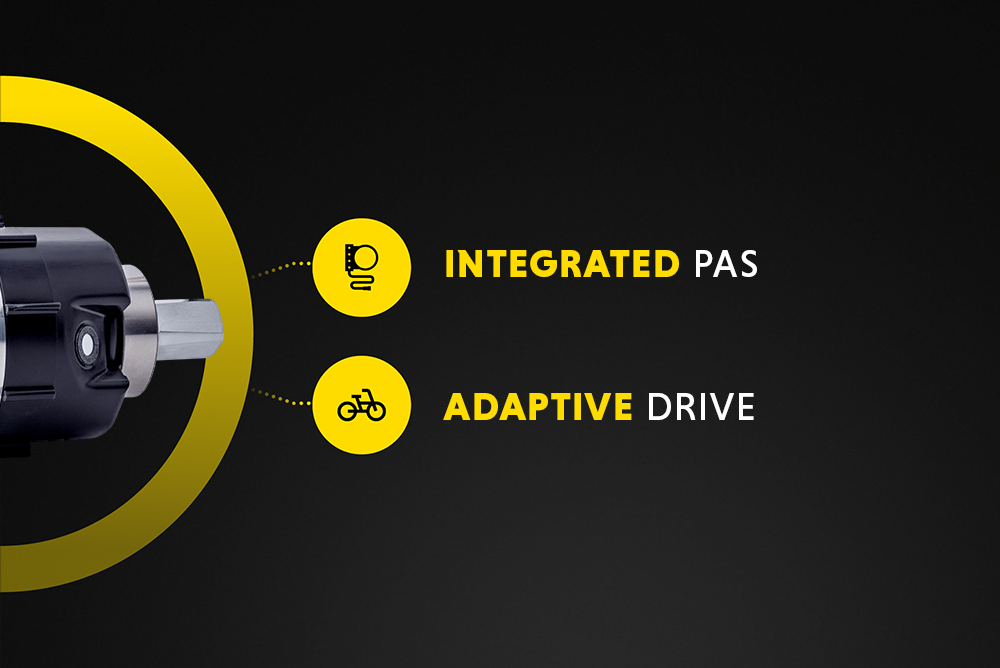 Convenience
Having the ultimate security doesn't have to be a compromise! Using an e-bike has to feel natural and sleek, with our user-centric design thinking we ensured that cyclists love using the system every day and their bike always is secure no matter what.
One Push Go!
With one push of a button, powers up display and lights, unlocks the bike and you're ready to ride. Easy peasy lemon squeezy.
Auto-Lock Function
No more forgetting to lock your bike, PentaLock got your back! It will automatically lock, disable and turn on the alarm after 30 sec of you being out of sight.
App solution
Possible to integrate the digital PentaLock experience into your own app solution with our API or use one of our partners apps to elevate your brand even further.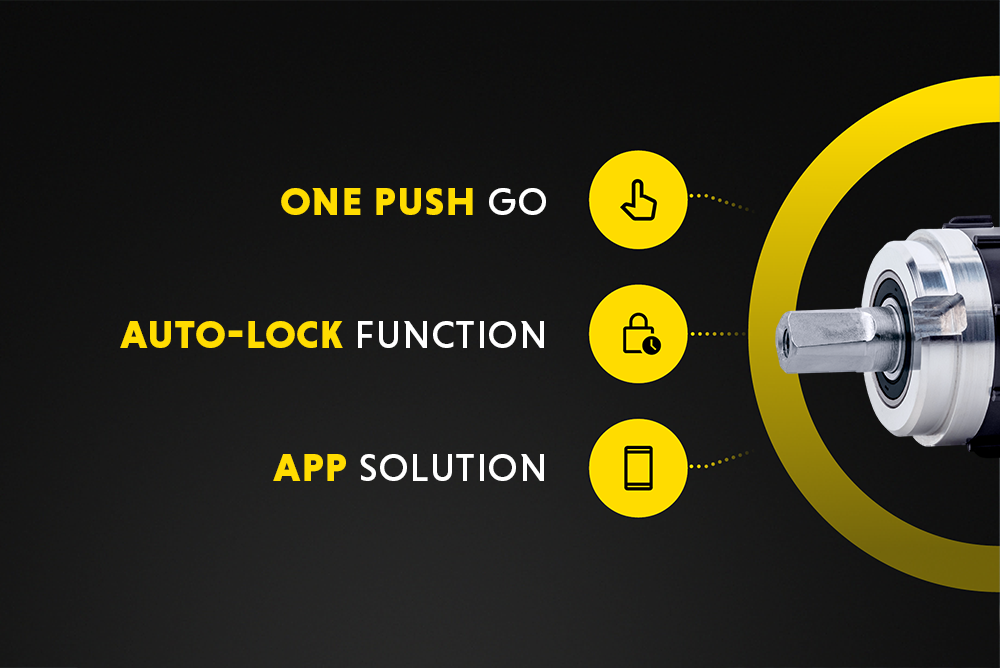 Keyfob
The PentaLock wireless keyfob is the gateway to experiencing all the features the platform has to offer – all in a small and sleek keyfob that easily fits in your keychain and pocket.
API
For manufacturers looking to provide their customers with an improved digital solution, integrate the PentaLock API and features into your existing branded app.
Integrated battery
Having a small backup battery inside the unit, makes sure that alarm and lock keeps running for weeks, even if your bike runs out of juice or main battery is removed to get a recharge.
Easy integration
PentaLock can assist manufacturers throughout the integration process, ensuring high standards and quality. And ensures a perfect fit with your e-bike system and assembly processes.
Insurance coverage
Thanks to our partnership with insurance companies spanning all over Europe, offering bundled insurance with your bikes directly to customers has never been easier.
No hidden fees or subs
At PentaLock, we believe that end-customers deserve the best! Thus we delivery continuous software improvements, new features and innovation for free. No hidden fees or subs.
Interested in PentaLock?
Are you ready to revolutionize the way your customers experience technology? Look no further than our PentaLock with its unparalleled features! Get in touch to learn more about how you can upgrade your bikes with a single component.